June 28, 2019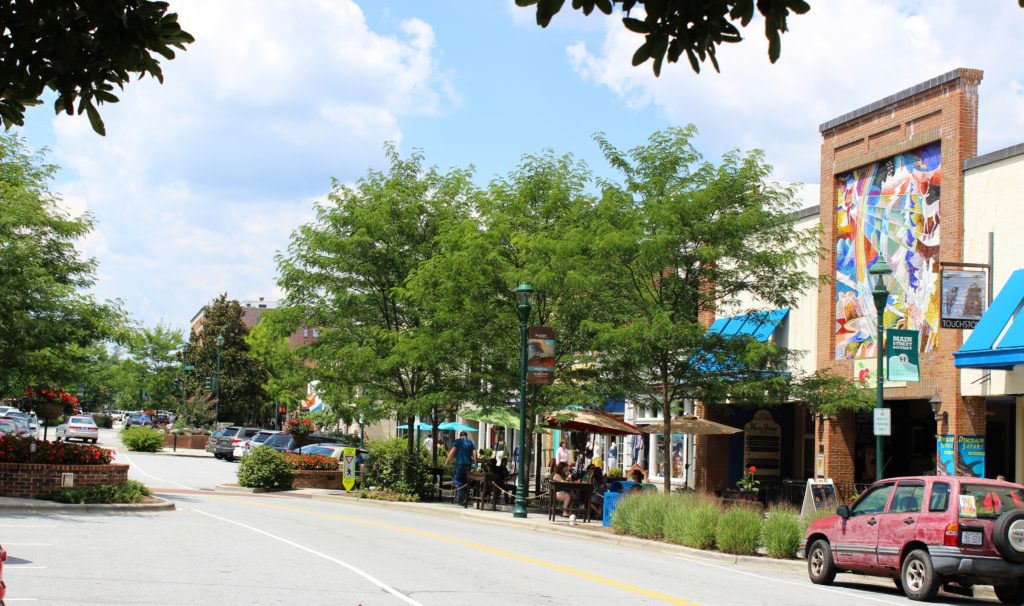 When it comes to finding the best location for your business, we know that a part of your research and discovery involves getting a taste of the local culture and lifestyle.
It's a part of our mission at the Partnership to welcome guests to Henderson County and to help ensure that your time here is convenient and enjoyable. A tourist destination in its own right, the county is truly a place to relax and enjoy life, from downtown Hendersonville to the nearby national forests.
Please use this guide for suggestions on experiencing the county's wealth of culinary and hospitality options during your company trip!
When you're hungry in Henderson County
Our Main Street is not only full of small-town charm, but it is also home to some of the most delicious spots offering a variety of savory and sweet options, sure to satisfy any craving you may have. Looking to experience some traditional southern barbeque? Or maybe you're in the mood for a hearty meal inspired by the Italians? Perhaps you're looking for something a little lighter like a delectable array of globally inspired tapas or some wood-fired pizza with surprisingly satisfying salads on the menu. Or maybe you want to hone in on your wild side with some spicier Asian or Mexican cuisine? We have a spot for all of that. There is something for everyone in downtown Hendersonville. And once you satisfy those savory cravings, look out sweet-tooth, because we have anything your heart could desire: fresh baked pastries and pies, homemade ice cream and fudge, and frozen yogurt you can smother with as many toppings as you want.
To see all that downtown Hendersonville has to offer your hunger, visit:
https://www.visithendersonvillenc.org/business-categories/dining
When you're thirsty in Henderson County
We want people to really hone in on their craft here in Hendersonville. From craft breweries to craft cocktails, inspiration in liquid form is around every corner. Not sure if you heard, but we are pretty big on apples here in Henderson County. What do you get when you ferment those apples into a delectable thirst-quencher? You get hard cider. Our local hard cidery's tagline is "crushed & crafted in the Blue Ridge Mountains." That's right, Bold Rock Hard Cider, the crafter of some of the most versatile and tasty hard ciders around, is located right here in Henderson County.
If you're looking for a brewery that has it all, Henderson County is also home to the east coast headquarters of national, beloved beer brand Sierra Nevada. Cited as a "beer wonderland in the woods," not only will you find a huge selection of their craft brews, made right there on site, but there is something for everyone, and all ages are welcome. There is a full-service restaurant supplied by an organic garden out back that you can walk through and enjoy, an outdoor amphitheater where you can kick-back and listen to live music, some trails that you can walk winding down to a riverside beer wonderland, and more sustainable initiatives than you could ever explore in one day.
Want to get a little closer to downtown Hendersonville? We are also home to many other breweries that have paved the way in the name of craft beer located within walking distance of Main Street.
Not a fan of craft beer? (Shhh, don't say that too loud!) Not a problem. Our liquid inspiration can also be tasted in the form of garden-meets-glass through a perfectly crafted cocktail. We have several spots that source local ingredients to perfect their art and please your taste-buds!
Have no fear, Mister Domestic Beer. There's something here for you, too. Henderson County preserves its past with some traditional sports bars and Irish pubs that are sure to have what you need.
To see all that Downtown Hendersonville has to offer your thirst, visit:
http://downtownhendersonville.org/biz-type/dining/drinks/
When you need to be one with the outdoors
With more public recreational lands than anywhere else on the east coast, Western North Carolina boasts an array of options to satisfy your hunger for the outdoors. From a leisurely stroll through the woods or a lazy float down the river, to an adventurous bike ride up a mountain or a heart-pumping fight through some whitewater rapids, we have something for you here in Henderson County.
To see what options are available for getting you back to nature, visit:
https://www.visithendersonvillenc.org/business-categories/outdoor-recreation
When you are ready to rest your head
If you are trying to check out all that Hendersonville and Henderson County have to offer, you are sure to end your day exhausted, but in the best way. Hendersonville has a variety of options when it comes to places to rest your head. There are quaint bed & breakfasts located within walking distance to downtown. You can choose to relax in the sounds of nature with scenic views amidst a mountain cabin. Or maybe you just prefer a traditional hotel rather than a mountain resort. As you have read by now, we have something for everyone.
To find a place to rest and recharge, visit:
https://www.visithendersonvillenc.org/business-categories/lodging
When you're considering Henderson County as your business home
We know that taking the plunge to relocate takes a lot of time and energy. We are here to help make it simple. Not only is Henderson County a great place to live, but it's also a great place to do business. In addition to a beautiful terrain, four seasons, a wealth of cultural diversity, and access to some of the largest and most exciting urban areas in the Southeast, Henderson County also offers both a legacy of economic innovation and affordability. You'll want to be a part of this.
But don't take our word for it. Come find out for yourself. If you are interested in visiting Henderson County with the intent of doing business here, please get in touch – we can offer an insider's perspective and connect you to the organizations and information you need!
For more a map of downtown Hendersonville and a list of events, visit:
http://downtownhendersonville.org/wp-content/uploads/2014/08/2019_MerchantBrochureLR.pdf