October 9, 2019
Students explore advanced manufacturing career opportunities on Manufacturing Day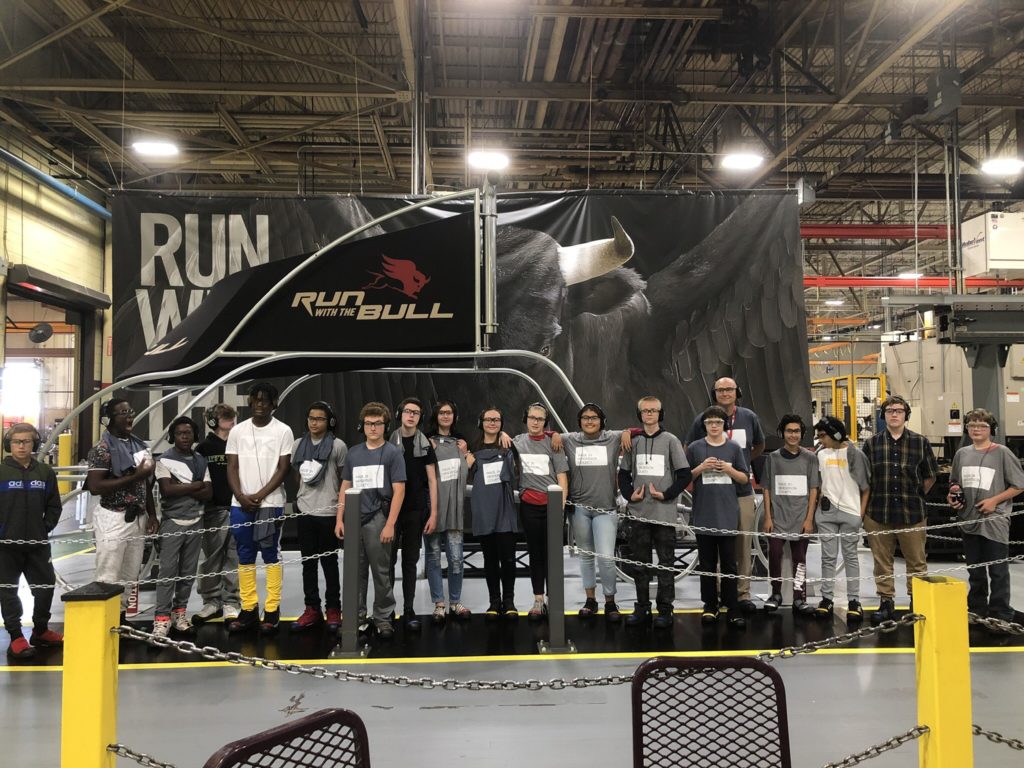 Hendersonville, NC – The 2019 Made in Henderson County (MIHC) Tours took place on National Manufacturing Day, Friday, Oct. 4, throughout Henderson County. The MIHC tours are an annual collaboration of local schools' Career & Technical Education programs and workforce development initiatives. This year the tours introduced more than 375 middle and high school students to successful manufacturing careers in their own backyard.
Henderson County Public Schools (HCPS) has partnered with the Henderson County Partnership for Economic Development (HCPED) since 2012 to showcase manufacturing careers to local students through Made in Henderson County tours and events. The initiative has grown to include annual job fairs that positively impact current employer needs by connecting them directly with local, career-ready students who are interested in manufacturing, as well as a Manufacturing Apprenticeship launched in Spring 2019 in partnership with Blue Ridge Community College.
"Manufacturing offers so many career paths today. The sooner we expose kids to the opportunities available right here in Henderson County, the sooner they can start planning for their future and taking advantage of those opportunities."

Steve Gwaltney, HCPED Chair
This year's MIHC Tours took place on Manufacturing Day for the second year in a row. Students visited 15 local companies, where they got a first-hand look at advanced manufacturing processes and materials including technical ceramics, polymers, die-casting and machining, packaging, sheet metal fabrication, custom cabinetry, molding, and more.
Participating companies included Mountain Showcase, Elkamet, Wilsonart, Prince Manufacturing, Byers Precision Fabricators, Norafin, Raumedic, Haynes Wire Company, Printpack, WestRock, GF Linamar, Selee Corporation, BorgWarner, Continental Automotive Systems, and Meritor.
"We are thrilled to once again partner with the Made in Henderson County Program to offer tours for our middle and high school students. This provides our students the opportunity to learn about the amazing manufacturing careers available in Henderson County with competitive salaries and benefits, often with tuition reimbursement options. Our goal is to show our students firsthand what awaits them upon graduation."

Dr. Wendy Frye, HCPS Director of High Schools
Students learned that manufacturing jobs have evolved from production to high-tech involving engineering, logistics, finances, human resources, and more – and the opportunities in their hometown are plentiful and rewarding. With 130 manufacturers in Henderson County, 15% of the county's workforce are represented by the 5,700 people working these manufacturing jobs, with average wages in excess of $53,000/year.
About Made in Henderson County
Made in Henderson County is a coordinated effort established to enhance the connection between manufacturing businesses and Henderson County Public Schools, while telling the story of manufacturing, the products that are made here, and the people who make them. The effort to enhance connectivity between manufacturing businesses and the school system is focused on raising the visibility of manufacturing as a viable career path to ensure that Henderson County students have diverse employment opportunities in the community, and manufacturing businesses have access to skilled, local talent. Visit www.madeinhendersoncounty.com for more information.