June 17, 2019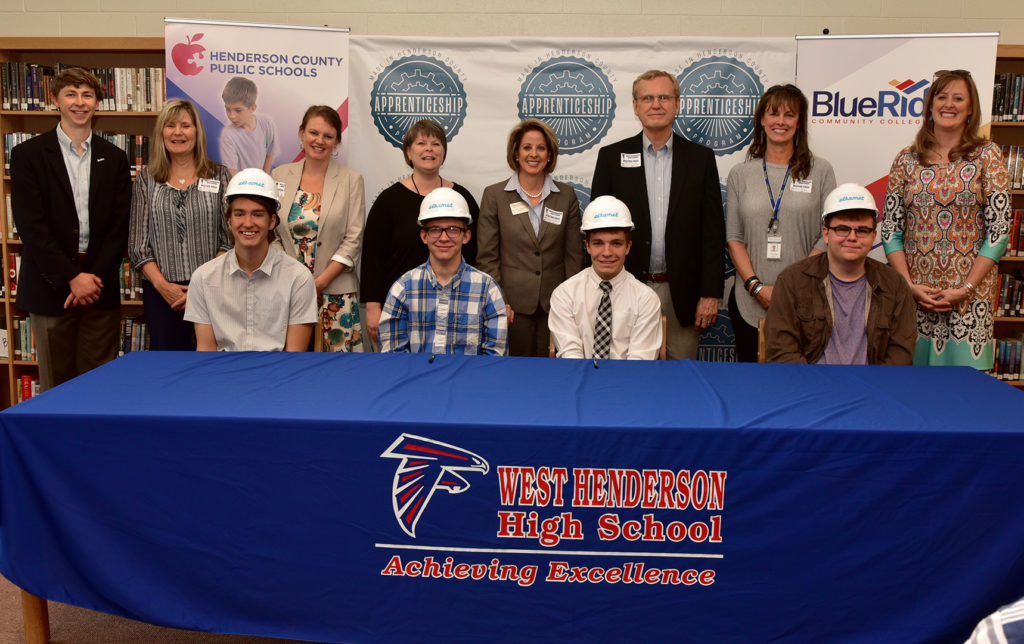 The very first Made in Henderson County Apprenticeship Program launched this Spring for Henderson County Public Schools graduating seniors. After a lot of community exposure and education on the program details, applications rolled in and nineteen students ended up being accepted into the program, set to begin this Fall.
Following a brainstorming session on how to tackle growing workforce needs, the program became an idea. The Henderson County Partnership for Economic Development, Blue Ridge Community College (BRCC), Henderson County Public Schools (HCPS), and local manufacturing employers Elkamet, Westrock, GF Linamar, and Meritor all came together to make the idea a reality. Partnering further with the NC Apprenticeship Program, details about what was required were laid out.
The Made in Henderson County Apprenticeship Program was established as a registered NC Apprenticeship with the NC Department of Commerce, offering participating students a tuition-free Mechatronics Engineering Certificate. Throughout the course of three semesters, apprentices would alternate between attending class at BRCC one day a week and working at one of the partner companies the rest of the week. Upon completion of the program, they are guaranteed a full-time job offer.
Through an extensive marketing program, the word was spread about the apprenticeship program and its many benefits. Information sessions were held during the school day at all five high schools in Henderson County. Kick-off events were held after school and over the weekends so that interested parents could attend. Open Houses were offered at all four participating employers where interested students were welcomed with enthusiasm; they were given company swag to take home with them and were treated to snacks and drinks while they learned more about the company and what each one made.
The applications came rolling in as soon as the word spread about the program. Once the application period closed, there was an orientation and pre-apprenticeship program for all students who applied. Team-building activities were held to see how they all worked together and representatives from all four participating employers were there to observe and answer any last questions. The applicants then ranked their preferred employers, and the employers did the same with the applicants. They were then matched according to preference.
Once the applicants were matched to the employers, signing days were held for the students at each high school. The signing days were structured like that of an athlete joining a college team. Media was invited, papers were signed, and lots of photos were taken. Family and friends of all the future apprentices were invited to attend and a celebration was held after the signing was complete. The rooms were full of smiles as each student's future got a little brighter.
Nineteen students across four area high schools were brought into the Made in Henderson County Apprenticeship Program this year. It was a labor of love to see it through this far, one which would not have been possible without the help of Blue Ridge Community College, Henderson County Public Schools, Elkamet, Meritor, GF Linamar, and Westrock. Apprentices will formally begin the program this fall.
For more information on the Apprenticeship Program, and to keep an eye out for next year's important dates, please visit https://madeinhendersoncounty.com/apprenticeship/.