May 6, 2020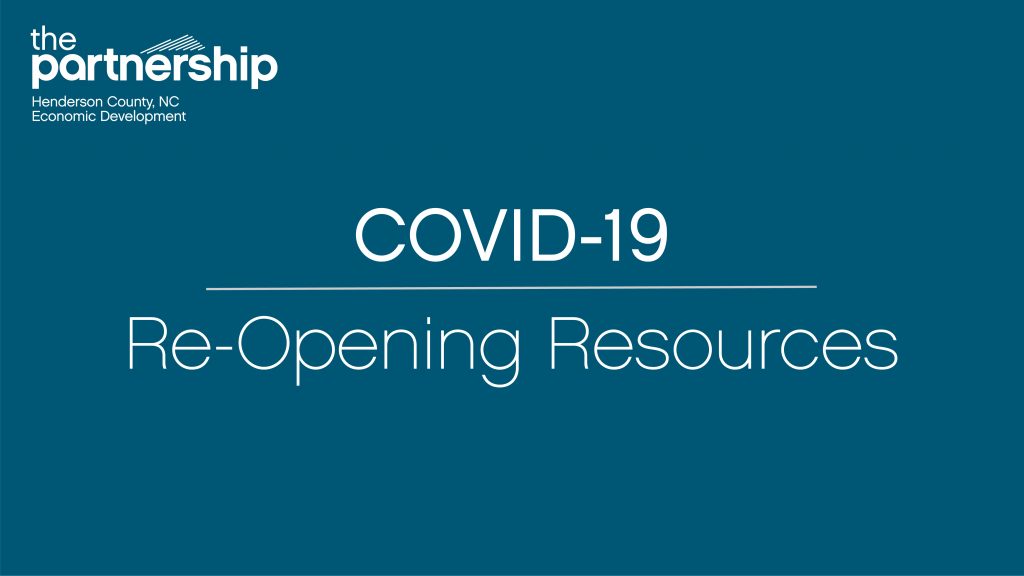 Phase II – Effective May 22, 2020: Stay at Home order is lifted to move to a Safer at Home recommendation, especially for people at high risk for serious illness. Teleworking is still encouraged where possible.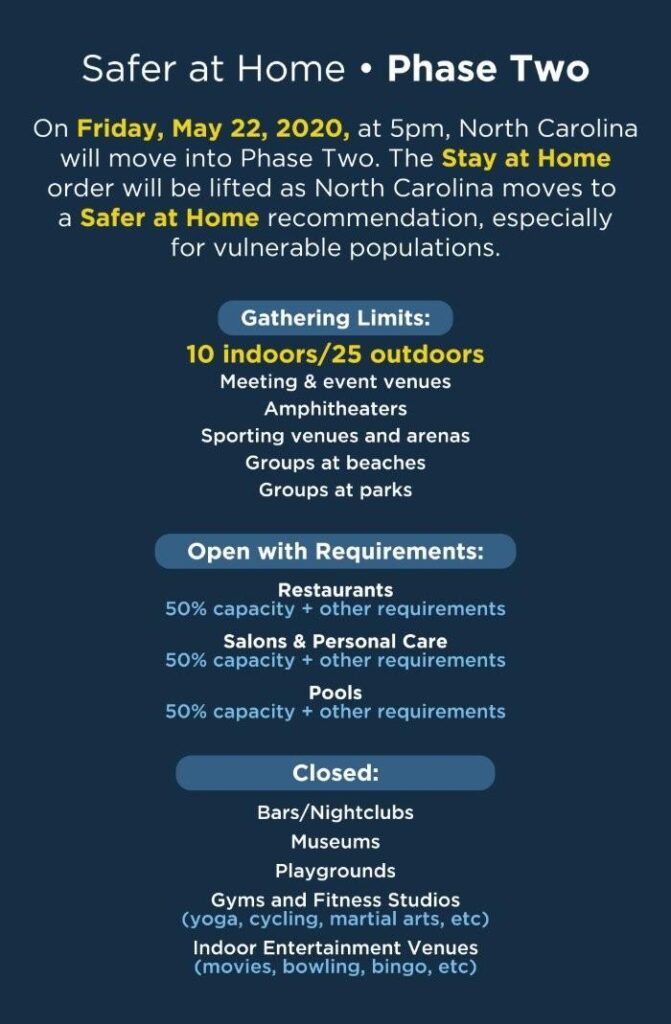 Phase I – effective May 8, 2020: Governor Cooper has removed the "essential" vs. "non-essential" designation, so all manufacturers can return to normal operations effective 5:01pm on May 8th. Social distancing and sanitation guidelines are strongly encouraged.

BUSINESS REOPENING RESOURCES
STATEWIDE RESOURCES
Recovery Readiness: How-to Guide
LOCAL RESOURCES
Reboot, Recover, Rebuild (R3) Program for Small Business:
The Small Business Center at BRCC is officially announcing the arrival of the Reboot, Recover, Rebuild (R3) Program for Small Business. Services will be available starting June 1, 2020 and will remain available through December 30, 2020. This program will provide free professional guest counselor services for disaster assistance in areas including business stability & operations, accounting & loan repayment requirements, marketing & branding, ecommerce development, legal, and many others.
Register Here: https://www.blueridge.edu/programs-courses/business/small-business-center/

Henderson County Updates:
Please check
https://www.hendersoncountync.gov/county/page/covid-19-resources-and-helpful-information for local updates.
PPE Resources:
Additional PPE resources are available through the Dogwood Health Trust.
For additional information, visit our initial blog post on COVID-19 here.
Childcare:
Childcare options can be found here. For questions please visit: childrenandfamily.org.
LOCAL BEST PRACTICES
Check out our latest webinar from 5/6/20, where we heard from Henderson County Commissioner Bill Lapsley, Chris Hykin with local manufacturer Smartrac, and Dr. Albert Osbahr with Pardee@Work:
Local manufacturer Smartrac has provided some resource documents that can help in reopening:
Company COVID-19 Response Resource Documents
CDC Posters:
Stop the Spread of Germs Poster
ADDITIONAL INFORMATION
For all general questions, call Business Link North Carolina (BLNC) at 800.228.8443. BLNC staff are available Monday through Friday, 8:30 am – 4:00 pm. BLNC staff will connect your business to the appropriate organization for assistance. All inquiries will receive a response from a confidential business counselor within three (3) business days. "Se Habla Español."
————————————————————————————————————————————————
Are you preparing to reopen your business?
Businesses looking for the latest info on the COVID-19 situation in NC can visit the NC Department of Health and Human Services website. The North Carolina Department of Health and Human Services publishes guidance for dealing with the current COVID-19 situation, including specialized advice for businesses and restaurant operators.
Ongoing Mitigation Guidance
Businesses seeking guidance to plan, prepare, and respond to COVID-19 can review the CDC's Ongoing Mitigation Guidance guidelines for potential mitigation activities according to level of community transmission or impact of COVID-19 by setting.
Protecting Your Business from COVID-19
Pandemics like COVID-19 create a variety of unusual circumstances that you must be able to quickly adjust to. This guide from the National Institute of Standards and Technology can help you prepare for and react to COVID-19 impacts and includes best practices for protecting your facility and employees from exposure.
Posters and Flyers to Post in Plant from the Centers for Disease Control and Prevention (CDC)
The following print-only materials are developed by the CDC to support COVID-19 recommendations. All materials are free for download. They may be printed on a standard office printer, or you may use a commercial printer. Materials are available in multiple languages.
Key Environmental Protection Agency (EPA) resources on COVID-19, including info on disinfectants
This website provides key EPA resources on the coronavirus disease (COVID-19), Including information on Disinfectants to use against COVID-19.
Responding to a COVID-19 Exposure at Your Business
The following can serve as a checklist for what you should do if you suspect a COVID-19 exposure has occurred at your facility. This advice is based upon recommendations from the Center for Disease Control (CDC). You can use the sources in this document and on the CDC's website to ensure you have the latest updates and recommendations. Be sure to refer to your state's recommendations as well.
Occupational Safety and Health Administration (OSHA) Record Keeping Requirements for COVID-19
This link highlights OSHA standards and directives (instructions for compliance officers) and other related information that may apply to worker exposure to novel coronavirus, COVID-19
Food Safety Guidance, NC State University, Manufacturing Extension Partnership (MEP) Member
FAQ on COVID-19 and Food Safety, United States Department of Agriculture (USDA)
Secretary of Revenue Ronald G. Perry announced on March 31st that the N.C. Department of Revenue will not impose penalties for late filing or payments of several tax types, including sales and use and withholding taxes, through July 15. It will also waive penalties for failure to obtain a license, failure to file a return, or failure to pay a tax that is due on March 15 through July 15.