October 2, 2023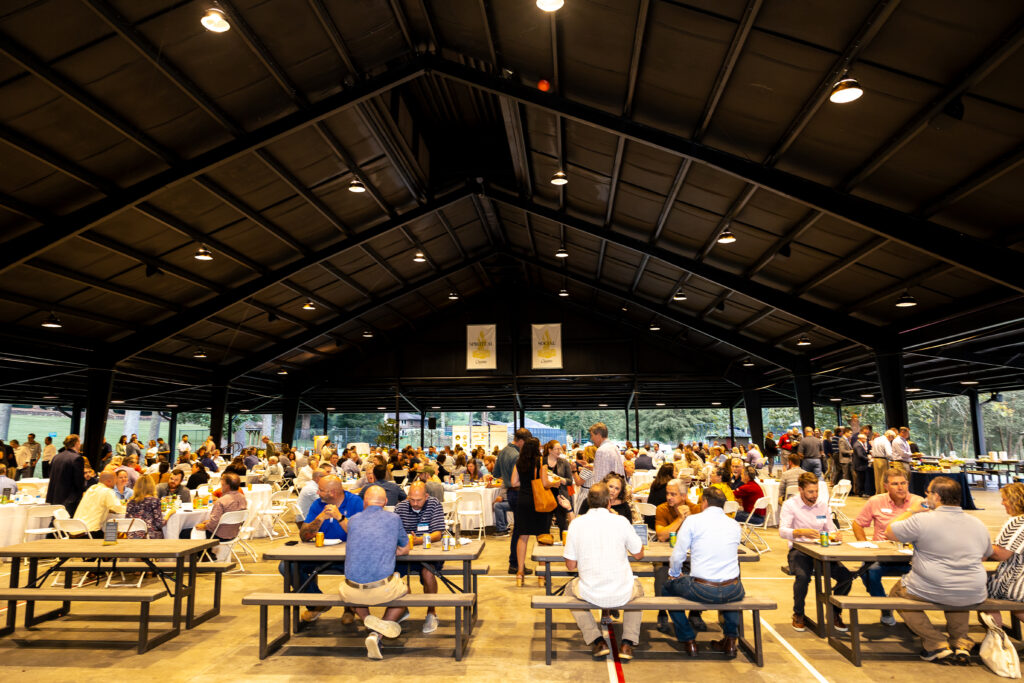 The 2023 Henderson County Partnership for Economic Development (Partnership) Annual Event was held on Thursday, September 14th at Camp Greystone. Camp Greystone generously hosted nearly 300 people under a perfect autumn sky. The theme of the evening was Rooted, a focus on industries who have grown here, time and time again. The 2022-2023 fiscal year was one of the banner years for the Partnership. The organization assisted in ushering in over $147,000,000 in new capital investment and the creation of 198 new jobs.  Henderson County companies that announced expansions last fiscal year were Elkamet, Lassonde, and Meritor. International companies Emtelle and Tageos both announced Henderson County locations during the year.  
The highlight of the evening was honoring the Partner of the Year. Past Chair, Steve Gwaltney with Park National Bank, and current chair, Mark Russell with Southern Alarm and Security, honored the 2022-2023 Partner of the Year, the Economic Investment Fund of Henderson County (EIF). Founded in 2016 as a sister organization to the Partnership, EIF is a 501 (c) 3 focused on workforce and product development. The organization applies for funding and grants that facilitate the Made in Henderson County (MIHC) program. MIHC focuses on workforce development and career awareness around manufacturing including the apprenticeship program, tours, direct marketing, and school presentations. In addition, EIF secures and matures industrial sites through their product development effort. The group was  behind the 2020 purchase of Garrison Industrial Park that secured Jabil and the current development efforts at Ferncliff Industrial Park.  Thanks to the Economic Investment Fund of Henderson County, the Partnership is able to have sites and buildings to market. The 2022-2023 Board Members who were honored are: Chip Gould, Dave Modaff, Adam Shealy, Will Buie, Kelly Leonard, Beau Waddell, and Tommy Thompson.  The event is held annually for Henderson County manufacturers and Partnership members. The event is free of charge thanks to the support of Premier and Patron Members. 2023-2024 Premier members include: Carolina Specialties , CanvasPrints.com, Cooper Construction, Duke Energy First Bank, First Citizens Bank, Linamar Light Metals, Kimberly Clark and RYSE Construction. 
The next Partnership hosted event will be honoring National Manufacturing Week on Friday, October 13th. Industry partners across the county will host tours before guests convene for lunch to learn more about manufacturing careers. The event is exclusive to top investors with the Partnership. For more information on membership with the organization visit hcped.org.   Click here for more on the latest from The Partnership.
The Henderson County Partnership for Economic Development, Inc. is a 501(c)6 organization that works to: retain and attract quality jobs; solicit new business compatible with the assets and values of Henderson County; promote Henderson County's business image; assist the expansion of existing companies; and enhance Henderson County's overall quality of life.