October 6, 2022
Thursday, October 6th, 2022
Henderson County, N.C. – As the need for pad-ready industrial sites continues to rise, today Henderson County celebrated the official groundbreaking for the new Blue Ridge Commerce Center. The 65-acre industrial park is an $80 million project that includes 4 buildings and over 630,000 square feet of Class A industrial development.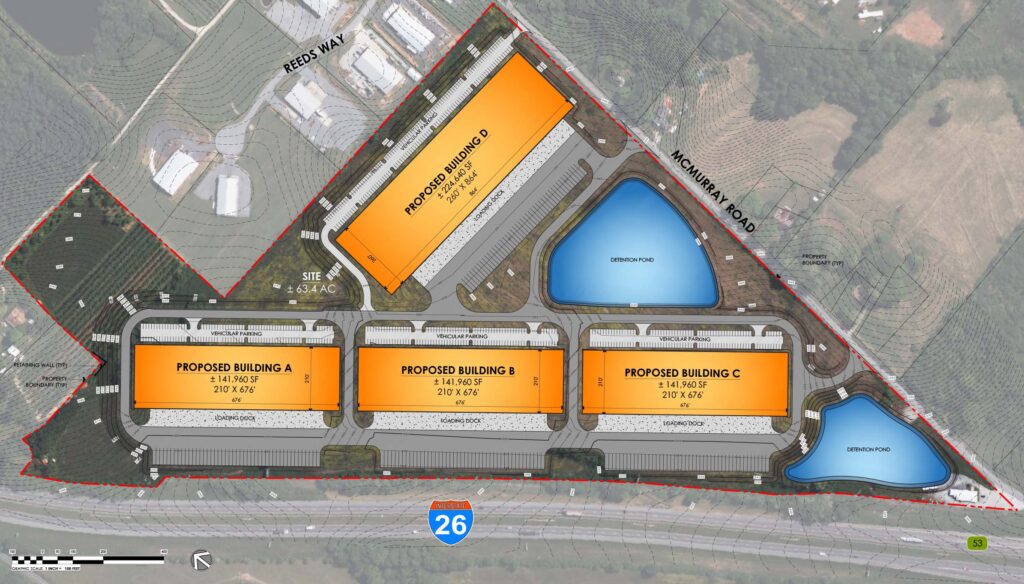 The Blue Ridge Commerce Center groundbreaking ceremony took place at 11:30am on Thursday at 337 McMurray Road in Flat Rock. Unlike the mountain range its named after, the park property is mostly flat and is located directly off Interstate 26, making it a prime location for future manufacturing companies. These unique features led to the property being selected for the Duke Energy Site Readiness Program in June 2021.
"This property was prime for development and the demand drivers of the area, with its continued population growth, labor and connectivity, made it an easy decision for us to invest here," said Tim Brent, Oppidan Executive Vice President, Southeast. "We've designed very flexible buildings to be able to accommodate a wide variety of users and tenant sizes and we're excited to bring that variety of industry, jobs and tax base to the city and county."Headquartered in Minneapolis, MN with offices in Apex, NC, Oppidan Investment Company is the developer for the project.
In attendance was Henderson County Board of Commissioners Vice-Chair, Rebecca McCall, and City of Hendersonville Mayor, Barbara Volk. "This is more than just a site. It is an opportunity for our citizens, for future employment. The forthcoming investment will contribute to public and emergency services for our citizens to enjoy. This is a blank slate for good, and we hope that we can all work together to find great success for our community," stated Mayor Volk.
Commissioner McCall remarked, "A job is a catalyst for life change and we cannot create jobs without places for them. I appreciate all the partners involved, seeing a bright future. I am hopeful that the developers will work with us to help create a lasting legacy."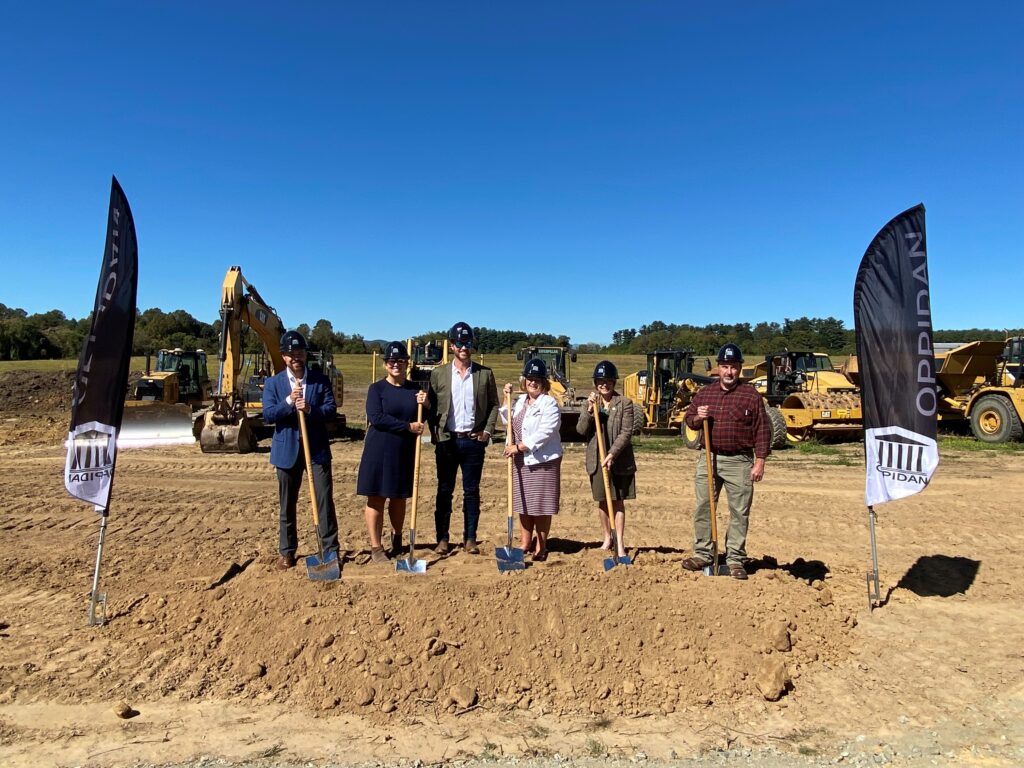 The Henderson County Partnership for Economic Development (The Partnership) has been marketing the Blue Ridge Commerce site, formerly known as the "Hudgens Site" for more than a decade and assisted in the recent development studies as part of the Site Readiness Program. Steve Gwaltney, Board Chair for The Partnership welcomed Oppidan to Henderson County, stating "We are committed to attracting companies we are proud of and that elevate the assets of our community. We are a community built on partnerships and today we recognize new partners in Oppidan."
Construction is expected to be completed in late summer of 2023. Information on the site can be found here.

ABOUT THE PARTNERSHIP
The Henderson County Partnership for Economic Development, Inc. is a 501(c)6 organization that works to: retain and attract quality jobs; solicit new business compatible with the assets and values of Henderson County; promote Henderson County's business image; assist expansion of existing companies; and enhance Henderson County's overall quality of life. Since 1993, it has assisted in the creation and retention of over 3,500 jobs and in bringing almost $1 billion of taxable investment to Henderson County.